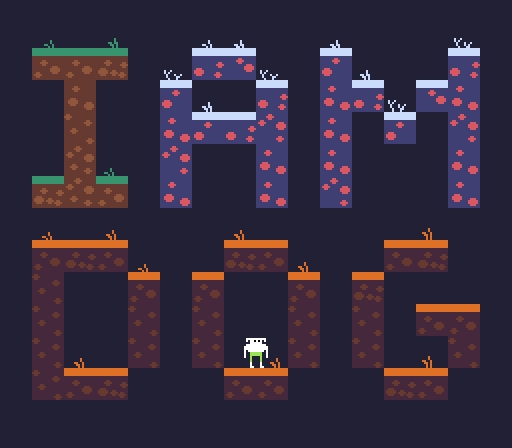 I AM DOG
Coming in 2022

Chomp, stomp, and bomb your way through the DEPTHS and help DOG get to the bottom of it all in this 2D Vertical Scrolling Platformer.


Traverse through randomly generated levels filled with the devious GOOBLINS, plotting SNEKS and terrifying GHOOSTS!


Discover the many BONES scattered throughout the land as these will be crucial to DOG's adventure through the DEPTHS! Offering the illusive SUPER BONE at the GOLD ALTARS will grant DOG additional POWER to help on their journey.

Spend your hard earned bones at the local STOP AND GOPHE where local Business Entrepreneur GOPHER GODPHREY has all the best items to help you on your way!

What awaits DOG at the bottom? Are those neon pants that DOG is rocking? Is DOG a real dog? The answers you seek are within I AM DOG, coming in 2022!
Follow along development on Twitter!
Words / Code / Pixels / Chomps
Christopher Lu @christhemute
Music
Robotmeadows @robotmeadow
Join the Discord: https://discord.gg/w5cBPEx9bH